Meet Senior Corps RSVP Volunteer Lucille Johnson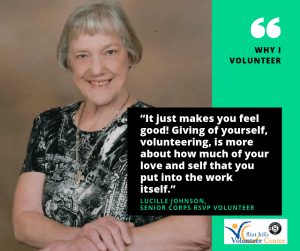 When Senior Corps RSVP volunteer Lucille Johnson lived overseas with her husband, she got involved with the local Air Force thrift store. With six children, it was a helpful experience because she was also able to find affordable items for everyone at home. Now that she's retired she enjoys managing the Budget Shop thrift store in Manhattan. The Budget Shop hosts approximately 80 volunteers a month, donations are sorted and either kept in house or sent to other organizations that can benefit from the items such as the animal shelter, the Mennonite Mission, and a reservation in South Dakota. Profits from the shop go back into the community to help the Flint Hills Community Clinic, Emergency Shelter, Crisis Center, and Shepherds Crossing. 
Lucille finds satisfaction in doing something for others. She especially enjoys the voucher program because it helps families and individuals find useful items and clothing that they wouldn't otherwise be able to afford. Recently they were able to help a family from the flood in September 2018 who were finally in a new home. She also recalled a time that a homeless man came in looking for interview clothes. He no longer had vouchers, but she was still able to help outfit him for his interview so that he had what he needed to be successful. "There is always an exception to the rules. It varies by case and we're here to help as best we can."

Volunteering at the Budget Shop has given Lucille an appreciation for retail. She enjoys being able to work with her team of volunteers and designing the merchandise displays in the store. Lucille encourages others to volunteer because she knows it's enjoyable. She describes it as a "friendship club" because you become friends with your fellow volunteers and look forward to seeing them regularly. Her volunteers rarely want to give up their shift or position because they enjoy who they work with and want to stay together.