Senior Corps RSVP Volunteer Donna Wilkins
When Donna Wilkins was told by her doctor that she needed to cut back on work, she found herself leaving her job with the Social Security
Administration to volunteer with the Flint Hills Volunteer Center as a member of the Senior Corps RSVP program. Donna wanted to stay busy, after all, she knew nothing different. She had been busy for the previous 32 years, 20 of them serving as a Non-Commissioned Officer in the United States Air Force.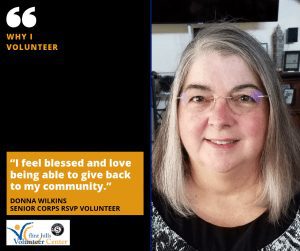 Donna finds happiness in serving others. While in the Air Force she served as a Personnel NCO, working at several duty stations including an ROTC assignment at K-State, and at the National Airborne Operations Center (NAOC) where she was the first female Personnel NCO, setting a precedent for those to fill the position in the future. Donna describes herself as "quiet" and "friendly" and joked about how she was often referred to as SGT Mom while still serving in the Air Force. You can see that it is a trait she takes pride in, her ability to connect and provide a calm helpful hand extended to others in everything she does.
As a Senior Corps RSVP volunteer, Donna often delivers meals for Meals on Wheels and is happy to give back and to help others with simple things in their lives, the things others take for granted. She says it's the small things, like opening a jar or delivering a warm meal that helps others that she enjoys most. Donna also volunteers as an usher at McCain Auditorium, the USO Homecoming and the Jingle Bell Bash where her husband plays Santa. She says if you are thinking about volunteering, "Just do it!" She's had so much fun that she wants others to find that same gift of giving back. Donna also says she has seen how much of a need there is in the area and she knows that more volunteers can continue to make a greater impact on the community.
When she isn't volunteering, Donna is card making, taking that attention to detail military mind set and putting it into small special
works of art to make others smile. She also teaches others to make cards through UFM in Manhattan and Hobby Haven in Junction City. Most of all, Donna enjoys spending time with her husband, her 2 sons and their families including her 3 grandkids.