Senior Corps RSVP Volunteer Elaine De Smedt
Senior Corps RSVP volunteer Elaine De Smedt cares deeply about others especially when they are in the most challenging times in their lives. Elaine, now the chair of our Suicide Prevention Task Force, has had years of practice in caring for others and when you talk to her, you feel her heart.
Elaine was born and raised in Manhattan to Dave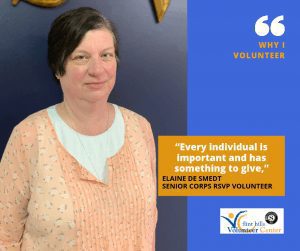 and Alice Ekart, a community-oriented family, and has fond memories of her upbringing. She earned her bachelor's degree in Education and then a master's degree in Rehabilitation Counseling at Emporia State University where she met her husband Olivier. After completing her master's degree, she worked in rehabilitation counseling, administration and supervisory roles in the Denver area but returned to Manhattan after the unexpected death of her husband 5 years ago. She recalled his ability to remember what made people special and said it was his kindness that lead her down a different path after his passing where she found solace in helping others with end of life issues. Since returning to Manhattan, Elaine began volunteering in hospice care to provide respite to families in need through their hardships and transitions when handling the death of a loved one.
In the past year Elaine's involvement with the Senior Corps RSVP Suicide Prevention Program has connected her with Veterans and with students to raise awareness on campus. Elaine is hoping to continue to raise awareness in the community through presentations to groups and organizations and hopes to further reduce the stigma in the military community, first responders and other at-risk groups who feel they cannot reach out for help. It is her goal to increase community involvement as suicides are on the rise across all demographics nationwide including teens and younger generations.
Elaine said, "Every individual is important and has something to give," and she believes it! Through her husband and their travels to his family home in Belgium she learned to "respect differences" and she believes that is what we truly need in community, to give understanding and support to one another because you never know what people are going through.