Senior Corps RSVP Volunteer Jim Griffin
Senior Corps RSVP volunteer Jim Griffin may not recall how he got started with the Schools of Hope program, but he has enjoyed being a mentor with the program for the past 7 school years.  Jim has especially enjoyed watching the students improve throughout the year.  Each year, Jim begins by showing his students a magic card trick. He shows them the same trick every month and at the end of the year he teaches the trick and gives the student his or her own deck of cards.   Jim finds it helpful to break the ice with the magic tricks and finding ways to connect with the student's interests.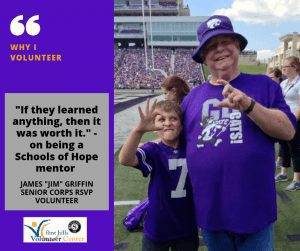 Prior to volunteering with Senior Corps RSVP, Jim was a medic with the US Army before retiring in 1989. During his time with the Army he had many adventures including delivering babies in Illesheim Germany, 2 years as an Air Evacuation Clerk in Thailand, and wandering on to movie sets while lost at Fort Irwin. Jim's stories about his time in Thailand make him smile as he remembers his daughter learning how to buy fresh pineapple every morning from a local merchant amongst other memories.  Jim recalled living in Bangkok during the student uprising in October 1973 that led to the end of the military dictatorship leading the way for a new government and the rise of Thai student activism.  During this brief time, Jim and his colleagues lived in a compound near a member of the Thai monarchy.  This person assisted the families in safely getting to work and around town until tensions settled.  Following his time with the Army, Jim worked with the Kansas Advocacy and Protective Services and the Department of Family and Children Services before retiring in 2012.
In 2005 Jim was diagnosed with non-Hodgkins Lymphoma, but it has not slowed him down too much over the years. He continued to work for several years and soon after retiring found the Schools of Hope program. Jim was fortunate to be matched with Ben during his first year with the program. The two connected easily over the card tricks and enjoyed their time reading together. Jim and Ben continued to work together for 3 years until Ben moved up to the 4th grade. During their time together, they were recognized as a Kansas Mentors, Coaches Challenge Outstanding Match for their strong intergenerational friendship.  Because of this, the two were invited to a Kansas State University football game and were able to be on the field with Willie the Wildcat and were shown on the jumbotron- an opportunity that both greatly enjoyed.  Ben still enthusiastically greets Jim when they run into each other in public; including briefly leaving his group in a parade to say hello and shake Jim's hand.  Jim reflects that he enjoys working with the students and the program because he learns as much from them as he hopes they learn from him- "if they learned anything, then it has been worth it."