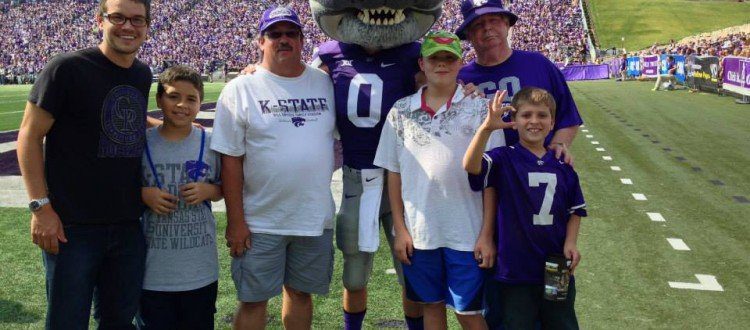 Kansas Mentors Coaches' Challenge – Oustanding Match
2014 Coaches' Challenge Outstanding Match
At the KSU football game on September 27th one of the Schools of Hope matches were recognized as a Kansas Mentors, Coaches Challenge Outstanding Match.  Ben a 3rd Grader at Amanda Arnold Elementary School and his mentor Mr. James Griffin, RSVP Volunteer, received special recognition on the field for the outstanding role they play in each other's lives.
Ben and Mr. Griffin began their match 2 years ago when Ben was referred to the Schools of Hope program for literacy support. Their personalities hit it off right away and from the beginning both were benefiting from the time they spent together. Ben is wise beyond his eight years and engages with Griffin as if they have been friends for fifty years. Ben's teachers reported progress in his focus and interest in the classroom since the match began. Mr. Griffin has been battling cancer for a number of years; he makes sure that his treatments don't interfere with his time with Ben, by scheduling around his tutoring sessions. Ben won't leave a tutoring session without Mr. Griffin showing him a new magic card trick or Ben sharing a new story about the farm. During our end of the year lunch Ben told the Schools of Hope Coordinator that he loved Schools of Hope because we bring him ice cream but most of all he loved it because he gets to spend time with Mr. Griffin. This is a perfect intergenerational match. Ben is outgoing and provides Mr. Griffin the hope to keep fighting, Mr. Griffin is quiet and gives Ben the skills to focus and excel academically.
This is an excellent example of the difference the mentors of Schools of Hope are making in elementary schools throughout USD 383. Become a mentor and make a difference in the life of a child by dedicating one hour a week. Contact Candice McIntosh, Schools of Hope Program Coordinator at Candice@flinthillsvolunteercenter.com or 785.776.7787.